Fabricant armoire de cuisine à Chambly
Antony Ebénisterie is a family business that has been working for 24 years in Chambly for all your cabinetmaking projects. We are specialized in the manufacture and restoration of furniture, more particularly wooden kitchen cabinets.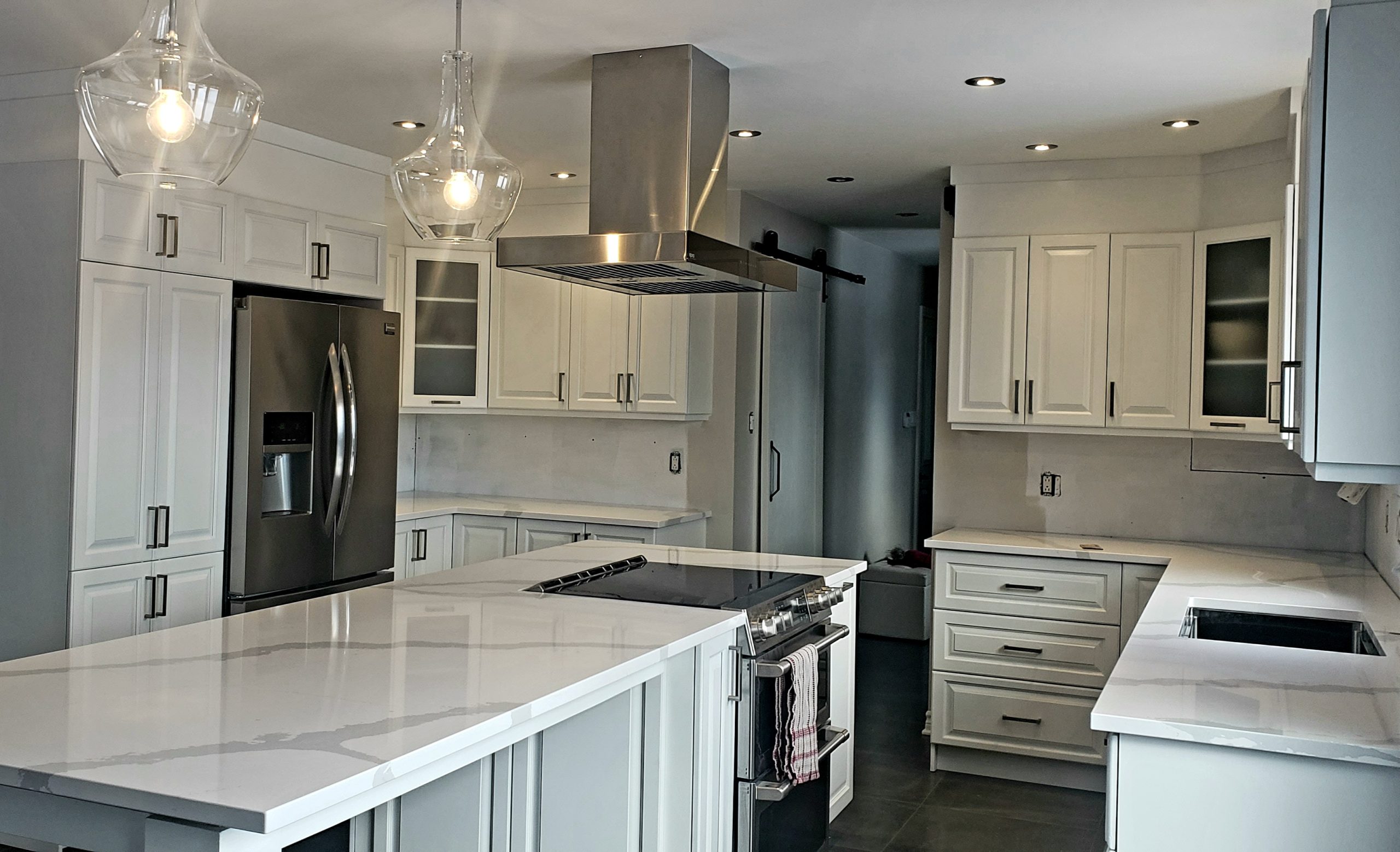 A new piece of furniture in chambly, it's now possible
If your project is to completely redo your kitchen, our team of professionals is able to meet your needs and expectations. We offer our customers a handmade and tailor-made service for quality furniture that is completely personalized to your tastes. We attach great importance to collaborating with our customers in order to offer them a piece of furniture totally adapted to their tastes and which is also in harmony with the rest of the kitchen. With Antony Cabinetmaking, opt for a unique kitchen cabinet, which you can keep for years. Therefore, if you are looking for a good kitchen cabinet manufacturer in Chambly, call us!

No more searching: Antony Ébénisterie is the partner you need. Competitive prices and quality service.
Opt for the restoration of your kitchen cabinet
First phase: find virgin wood
First, we will remove all the cupboard doors and the boxes from your kitchen cabinet to pickle and sand them in our workshop in Chambly. By performing this method on your furniture, this allows us to find natural wood, the raw material of the kitchen cabinet. This step will allow us to have a basis on which to work.
Second phase: staining the wood
Our team of cabinet makers will then carry out a real transformation of your kitchen cabinet to give it a second life. You will be able to choose the color you want for your furniture, either a shade similar to the original, or another shade to further modernize your kitchen. We will therefore apply several coats of stain to your kitchen cabinet in order to obtain a uniform result.
Third and final phase: finishing
It is important and necessary to fix the dye layers so that they last over time and do not crumble quickly. Our team of passionate cabinet makers will therefore take care of putting layers of sanded lacquer between each layer of paint. This step will allow the kitchen cabinet to have a perfect rendering and to be effectively protected.
Our ancestral know-how allows us to offer our customers a complete and turnkey service, until the delivery and installation of your new furniture.
Do not hesitate to contact us to request a quote for all your wooden kitchen cabinet design and restoration projects in Chambly. Trust Antony Ebénisterie, we will respond to the least of your desires. We work as much for individuals as for businesses and businesses. Therefore, we are able to carry out all your projects, from the simplest to the most complex.